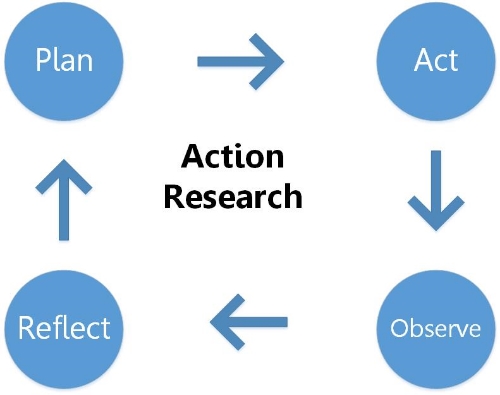 Action research (AR) is a principle involving investigation (research), problem definition, planning for action, and taking action (pilot or project implementation). The key elements of reflection, adjustment and retrying are built into every stage (evaluation, tweaking and iteration). The defining principle is that of understanding something by trying to change it (taking action or implementing an intervention).
More information and tools can be found via other posts mentioned at the bottom of the page. AR is variously described by experts with a number of stages from 4-10. Below is a 7 stage outline reworded for simplicity and accessability, drawing on various sources.
Participatory Action Research:
What's your passion? – developing and pursuing social interests – research.
Analysis, brainstorming and creative thinking – coming up with a question, something 'we' can change.
Planning for action
TOC – Theory of Change – what's the idea and how will it work?
Implementing a pilot action, evaluating and tweaking (iteration)
Impact and outcomes
Letting the world know – reporting!
For more information have a look at the other posts in this blog that feature Nesta's DIY Toolkit, Ideo.org's: Human Centred Design and the Fieldguide to Human Centred Design from designkit.org
the Photovoice methodology is another very useful method for working collaboratively with empowerment, and representation problems in marginalised communities where trust and access are problematic. More information in another post.
Links to resources are available in these other posts.