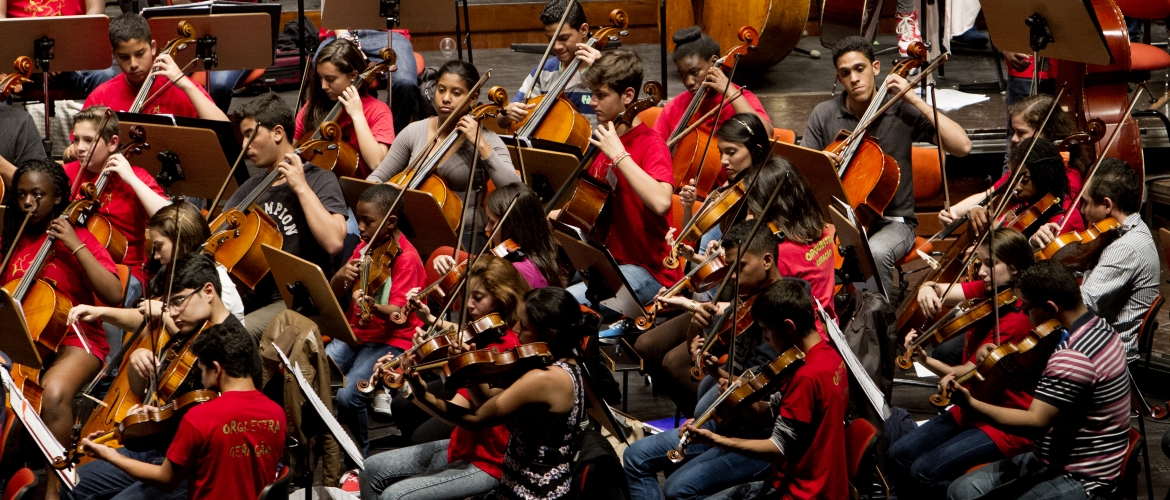 Since 2015, more than 10,000 young people have been taking part every year in arts-based education projects supported through the BNP Paribas Foundation's Dream Up programme. We bring you some of the latest news from Dream Up.
Lisbon
In June, young musicians from the Orquestra Geraçao concluded their musical season with a concert in Amadora, near Portugal's capital, Lisbon. On the programme was a selection from their repertoire of classical music, jazz and music from different parts of the world. 'World music' has a special importance for these children, as many of them are from families that came to Portugal in the various waves of migration that have marked the country's history. The Orchestra Geraçao organisation, which was set up in 2007 along the lines of Venezuela's El Sistema, uses music to help children and teenagers from underprivileged backgrounds to integrate into the education system and the wider society.
Singapore
In March, following on from his work in Casablanca and Luxembourg, Abou Lagraa packed his bags for Singapore. This noted dancer, choreographer, dancer and Dream Up ambassador went to run some dance workshops there. Around thirty youngsters aged between 12 and 18 from the Little Arts Academy, who were already on a city dance programme, spent close to a week working with Abou to express their passion and give free rein to their creativity and their showmanship.
Shanghai
In August BNP Paribas invited eight students and two teachers from the Taipei Ricci Institute to an art summer camp in Shanghai. Twenty-nine pictures, all painted by the students, were then selected for an exhibition hosted by BNP Paribas on the ground floor of the Shanghai World Finance Centre (SWFC) where the Group has its Shanghai offices. This was a joyous moment for the students, who were delighted to see their works exhibited to the public and to receive plaudits from the visitors to the exhibition, including many BNP Paribas staff. And as the icing on the cake, they were invited to take a tour of the offices.
Warsaw
Twenty-five highly motivated children arrived at a music summer camp at Serok, not far from the Polish capital, in August. During their stay they learned to make music together, to sing and to play new instruments, under the nurturing eye of professional musicians and also went on outings, including a bike ride and a day at a water park. For many of the children, these were their only summer holidays, and they spent them in a musical environment!
Johannesburg
In South Africa, the Shakespeare Schools Festival – which is supported by the BNP Paribas Foundation – once again attracted a large audience for the works put on by young actors. Some 2,000 children and teenagers from 70 primary or high schools across the country came together for the largest youth theatre festival in the world. In September, following months of preparation, the students performed their adaptation of a play by the iconic English playwright William Shakespeare in two large theatres in Johannesburg: the Joburg Theatre and the Soweto Theatre. The basic aim of this 17th round of the annual festival – attended by over 4,000 spectators – was once again to awaken passions and unlock personal vocations.